"COWBOY MELT COMES TO CINCINNATI"
Cincinnati, OH - January 2023 – Cincinnati-based restaurant brand Tom & Chee has partnered up with The Cure Starts Now to offer the new southwest themed COWBOY MELT for a limited time.  They invite all your family and friends to "giddy up" and enjoy this amazing creation which will be available until February 12th.  A portion of sales will benefit The Cure Starts Now to help fund pediatric brain cancer research.
"The Cowboy" was the collaboration of Jeff and Allison Thomas along with John Gerth's team at Tom & Chee.  Jeff and Allison won the chance to create their very own Tom & Chee sandwich at The Cure Starts Now's 14th annual Once in a Lifetime Gala.  With a love for southwestern cuisine, The Cure Starts Now, and Tom & Chee, it was an easy decision. "We are big fans of the Southwestern Street Corn Salad and the creative team at Tom & Chee hit a homerun with this combination." said Allison Thomas.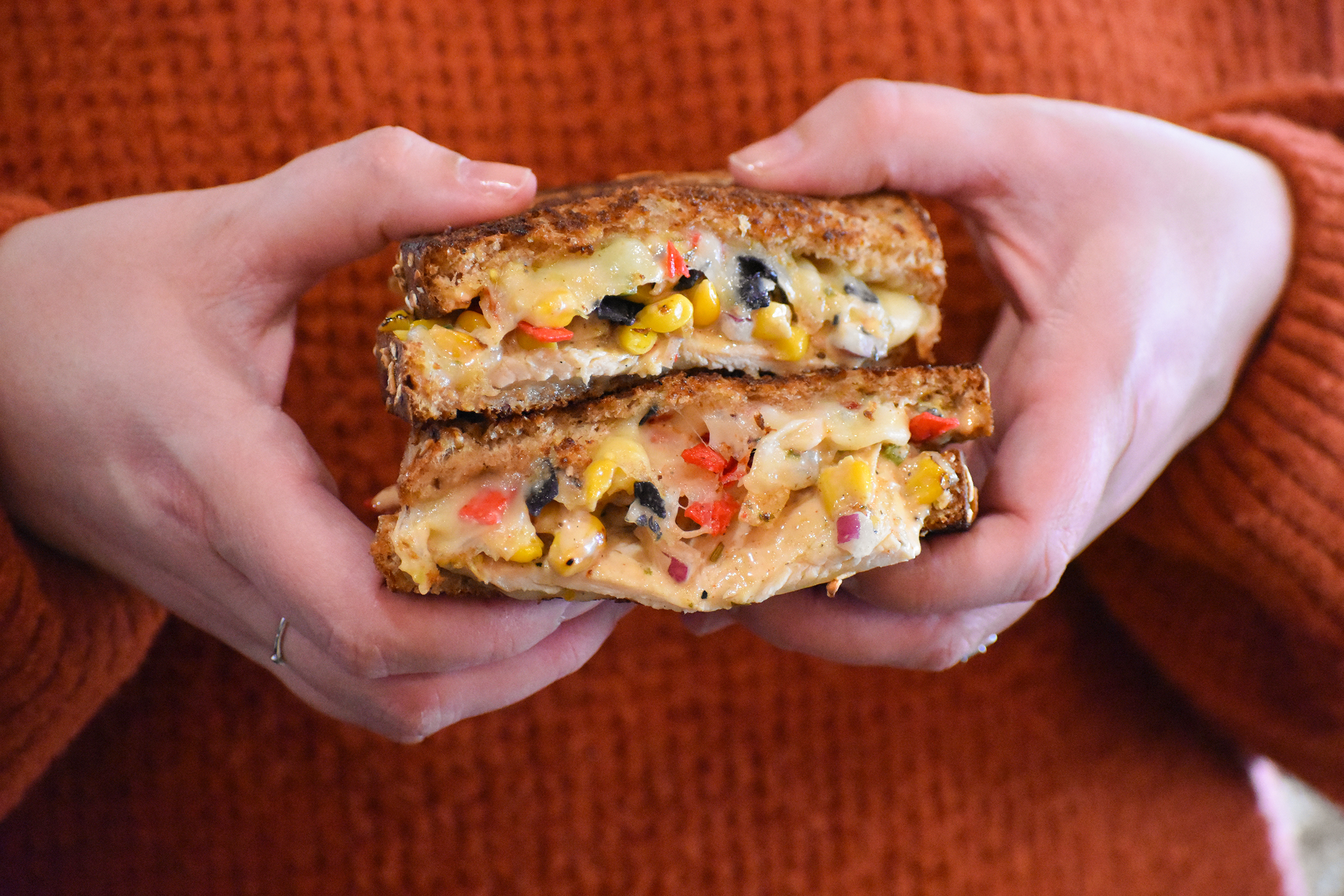 The new Cowboy Melt is a delicious combination of oven-roasted chicken, pepper jack cheese, a fire roasted corn mix and tortilla strips topped with chipotle ranch dressing on wheat.  It will be available at all four Cincinnati based locations beginning Tuesday January 17 – Sunday, February 12.
"Supporting the organizations that work tirelessly to improve the lives of others in our community is and has been a longstanding goal of Tom & Chee.  With The Cowboy, we get to carry out and act on that belief in delicious, tastebud wrangling fashion," said Roger David, President and CEO of Tom & Chee.  "We cannot wait for Cincinnati to taste this amazing creation and help the fight against childhood cancer."
"The Cure Starts Now is so very excited about the Tom & Chee Cowboy Melt and hope everyone comes out to support our kids and families fighting cancer," said Brook Desserich Executive Director and Founder of The Cure Starts Now. "Tom & Chee continue to be an amazing partner for us and the entire community.  They are an excellent example of how great organizations step up to make a difference in the fight against cancer."
###
About Tom & Chee:

Tom & Chee serves much more than simple grilled cheese – it's a sensory experience that starts with great service and ends with satisfaction. From adventurous, handcrafted melts to savory soups and fresh salads, the menu offers elevated comfort food, with options like gluten-free bread, vegan cheese and vegan/vegetarian menu items to satisfy every guest. What began in a small tent next to an ice-skating rink in Cincinnati's Fountain Square quickly but quietly grew to multiple stores in the Cincinnati market and then began franchising. Tom & Chee has been featured on ABC's Shark Tank, The Chew, and The Travel Channel's Man vs. Food Nation and Amazing Eats. The Today Show named their Grilled Cheese Donut one of the "Best Sandwiches in America." For more information, visit www.tomandchee.com.


About The Cure Starts Now: 

The Cure Starts Now was started in honor of 6-year-old Elena Desserich, a Cincinnati girl who battled a rare, aggressive form of brain cancer known as DIPG. Today, The Cure Starts Now Foundation has over 39 chapters in three countries and is the only cancer foundation dedicated to finding the Homerun Cure™ for cancer by focusing on one of the rarest, most aggressive forms of cancer.  For more information, visit https://thecurestartsnow.org/

Media Contact for additional details / pictures or interview (with food):   
Lauren Hall [email protected]  | (513) 203-0673
Jim Getgey | [email protected] | (513) 309-0147