Addison is a 10-year-old girl who carries around a black backpack everywhere she goes. Hanging from the backpack is a small clear tube that nearly touches the top of her shoe before climbing upward to the port in her chest. It contains chemotherapy medicine that is continuously dripped into her body, all day every day. On good days, she'll skip down the hallways of The Cure Starts Now headquarters in Cincinnati. On worse days, her spark is absent from the office with only an email from her mom giving us a quick health update.
When Addison was 6 years old her parents took her to get ice cream and told her that she had a rare form of brain cancer called diffuse intrinsic pontine glioma (DIPG). Oblivious to what this would mean for her life, Addison merely responded with "okay" and continued enjoying her ice cream. While the weight of this diagnosis is sometimes lost on a child, her parents struggled to accept the doctor's prognosis, that she only had 9 – 18 months to live. Parents, Heidi and AJ, were told by doctors to pull Addison from school and start making memories.
Addison was rushed into a world of medical discourse with terms like IV flush, radiation, and chemotherapy becoming a regular part of her vocabulary. Since her diagnosis, Addison has undergone 5 rounds of radiation totaling 72 sessions, brain surgery, and four clinical trials, with many scans, pokes, and pricks. Addison is nothing short of a miracle. Children diagnosed with this same cancer rarely survive past one year. Meanwhile, Addison has defied the odds and has been fighting for 50 months. Heidi refers to her daughter as "Addison's Sunshine," a well-earned nickname that honors Addison's ability to stay positive and uplift the people around her while inspiring other families new to this diagnosis.
At The Cure Starts Now, we often refer to our kids as "Warriors" and "Fighters" with the hope that by personifying this cancer we might be able to take away a small burden from the battle our kids are facing.
"I've gotten more emotional over the years because of what all has been happening," Addison expressed, "It's just something that happens because I've been going through cancer for four years now."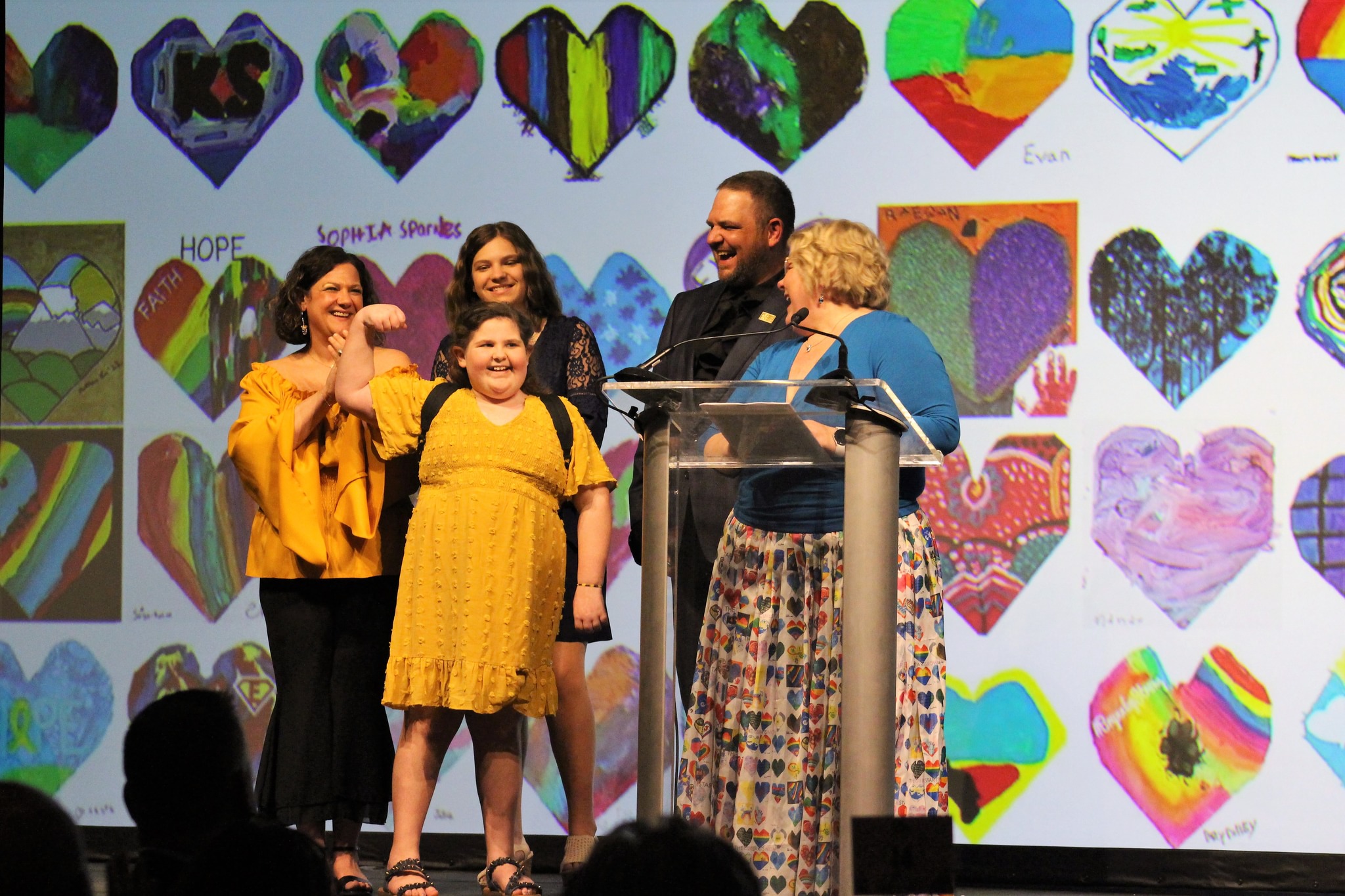 Her fight has never been easy and her journey has been long, but Addison and her family have held onto hope that the cure will be found. "Positivity and hope is what we cling to," said Heidi. In their journey, Heidi and AJ discovered The Cure Starts Now and learned of our mission to fund vital pediatric brain cancer research. Addison has taken part in four clinical trials with three of them being funded by The Cure Starts Now. Currently, Addison is the first child in the world to receive a new combination of medicine that may have groundbreaking outcomes in our understanding of cancer treatments.
Addison was forced to grow up quickly in four years, but her parents are thankful that she has been given the time to grow up. The Cure Starts Now was honored to recognize Addison at this year's Once in a Lifetime Gala as she was the recipient of the Hero of the Year award. In the gala's 15-year history, this is the first time the Hero Award has been presented to a surviving DIPG warrior.
"Addison is strong, courageous, and brave." Said Heidi, "She gets her strength from all of the angels that fought so bravely before her and from the current warriors that are fighting. She is brave in hopes that she can make a difference for the next child."
The Cure Starts Now Foundation, headquartered in Cincinnati, funds trials all over the world. We are committed to finding the Homerun Cure, believing that in finding a cure for the toughest cancers like DIPG, we can find the cure for all cancer. Learn more about Addison and The Cure Starts Now at https://thecurestartsnow.org/support/view-heroes/addison-varns/