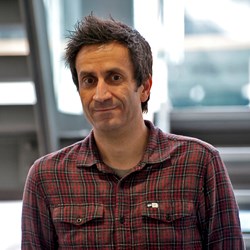 Institute of Cancer Research – $498,716
Dr. Chris Jones
Research Type
Translational
Translating Mechanism to Patient Benefit for ACVR1-Mutant Diffuse Intrinsic Pontine Glioma (DIPG) - An International Connect Consortium Preclinical / Clinical
Diffuse intrinsic pontine glioma, or DIPG, is a childhood brain tumor occuring in the brainstem of young children, for which there is currently no cure. Until recently, little was known about the makeup of this type of cancer, and treatments used for other adult brain tumor types consistently failed. Through the advocacy of families, the generous donation of post-mortem tissue and the reintroduction of safe biopsy procedures has provided tissue for researchers to identify the unique biology of DIPG, involving genes not previously linked to any other form of human cancer.
One such gene is ACVR1, which we discovered in a quarter of DIPG patients. We have shown that certain chemical inhibitors of ACVR1 may be effective in specific DIPG laboratory models, but at the time, these were not suitable drugs that could be safely given to children. There are now several companies with possible ACVR1 inhibitors that could be tested in the clinic. To help choose which is the most promising one, and to seamlessly run the clinical trial itself, we have put together a proposal from a collaborative group of researchers and clinical doctors from around the world with expertise in this type of tumor. 
We will test a range of ACVR1 drugs in a large number of DIPG models in our labs, and if the results are promising, test the best one in DIPG patients across North America, UK, Europe and Australia. As other drugs developed against similar genes often show good initial results in other tumor types, but with rapid return of the tumor, we will also run experiments in parallel which would look specifically for how these tumors become resistant to the drug, and figure out ways to overcome this which could also then be tested in the clinic. 
Our proposal seeks to develop the first new drug treatment for a gene target uniquely found in a pediatric brain tumor, and would provide the blueprint for future studies in other childhood cancer types.