Nebraska (Jimmy the Great)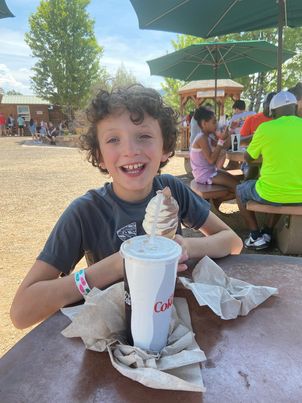 CONTACT: Nick Moran
LOCATION: Omaha, Nebraska 68164
EMAIL: [email protected]
PHONE: (402) 639-5424

In honor and celebration of Jimmy Moran
Jimmy Moran was a special kid.  He loved to make people laugh.  He always had a smile on his face.  He loved to make up games, draw, play baseball, he was a black belt, loved to play with his dog, and was the best son, brother, grandson, nephew, cousin, and friend.
Our world came crashing down when Jimmy suddenly developed double vision.  What we had initially thought was just a lazy eye turned out to be a terrible diagnosis on January 27, 2022—DIPG.  We were told that there were clinical trials, but none had been successful in curing DIPG and they would likely just provide Jimmy a few more months.   Finding out that our perfectly healthy son would likely die within a year was absolutely devastating. 
Jimmy lived as best as he could over the next 7 months—he loved going to school, was able to see his friends, and went on a couple vacations—all while participating in a clinical trial at Mayo Clinic.  But eventually everything he loved was taken from him by DIPG—he was never able to play baseball or go to Taekwondo again.  He lost hand function, so he couldn't play video games or draw, eventually couldn't eat his favorite foods, and, saddest of all, he lost his ability to talk.  Jimmy went through something that no kid should ever have to endure, but he did it all without complaining.  He had moments of sadness, but he never lost hope. 
Jimmy made a to-do list during one of his hospital stays.  One of the items on his list was "Be happy for no reason".   He lived that every day, up until he went to heaven on September 2, 2022.   As hard as it is, we try to live by Jimmy's words and find our own happiness.  Right now, the best way we know how to do that is by working towards our goal of finding a cure for DIPG.
If you want to know more about Jimmy's story, please visit:
https://www.caringbridge.org/visit/jimmymoran
The Cure Starts Now (501c3 Federal Non-Profit) is one of the only cancer foundations dedicated to a "homerun" cure for all cancers, starting first with one of the most deadly and difficult cancers: pediatric brain cancer. Many experts believe that the lessons we learn from fighting pediatric cancer may in fact provide us the critical first step in winning the battle against all forms of cancer, both pediatric and adult.