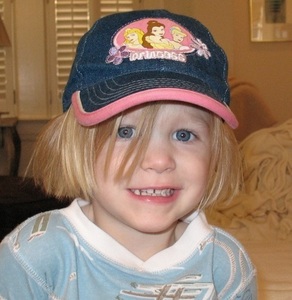 CONTACT: Pat & Elizabeth Adams
LOCATION: Birmingham, AL 35223
EMAIL: [email protected]
PHONE: 513-772-4888

In memory and celebration of Madeline Adams
Madeline was part tomboy and part princess. She excitedly dressed up in her tutu and then added cowboy boots to complete the outfit. Madeline was diagnosed with DIPG in 2007 at 3 years old. She battled for 11 months before earning her wings. Her parents, Pat and Elizabeth Adams, met The Cure Starts Now founders Brooke and Keith at the hospital and connected as their daughters battled this disease simultaneously.
Elizabeth and Pat knew they wanted to raise awareness and help create a network of families for support. As a graphic designer, Elizabeth created The Cure Starts Now logo you see today based on Elena's heart painting. They were the first chapter to join The Cure Starts Now as the Alabama (Birmingham) chapter in memory and celebration of Madeline. As a founding chapter, Elizabeth has helped build the chapter system that has allowed The Cure Starts Now to expand into the foundation we know today, with over 40 chapters worldwide.
After Madeline passed, Elizabeth was left with a lot of empty time to fill and turned to art and jewelry making as creative therapy. Eventually, her therapy turned into a successful business, Ex Voto Vintage, where she sells beautiful pendants that she fashions out of broken pieces of vintage jewelry. Elizabeth donates a portion of all Ex Voto sales to The Cure Starts Now. She holds gift basket raffles for customers who donate to The Cure Starts Now and educates her patrons about DIPG. Many of Elizabeth's customers are repeat shoppers because they love her jewelry and they love the cause. "People realize that there is a deeper purpose behind Ex Voto, and they want to be a part of helping fund cancer research for children," says Elizabeth.
In addition to a percentage donated from her business, Elizabeth and Pat also have held "Make a Stand" lemonade stands, Sunday Style Sessions, Couture to Cure, and participate in our Relay for Research and Giving First fundraisers. To date, they have raised over $179,722 for pediatric brain cancer research. We are so glad to have had the honor of keeping them on our amazing team for the past 15 years. Elizabeth and Pat have made a positive difference in their community by raising awareness and showing a willingness to help the next child who is diagnosed.
The Cure Starts Now (501c3 Federal Non-Profit) is one of the only cancer foundations dedicated to a "homerun" cure for all cancers, starting first with one of the most deadly and difficult cancers: pediatric brain cancer. Many experts believe that the lessons we learn from fighting pediatric cancer may in fact provide us the critical first step in winning the battle against all forms of cancer, both pediatric and adult.