Our Warriors Who Inspire Us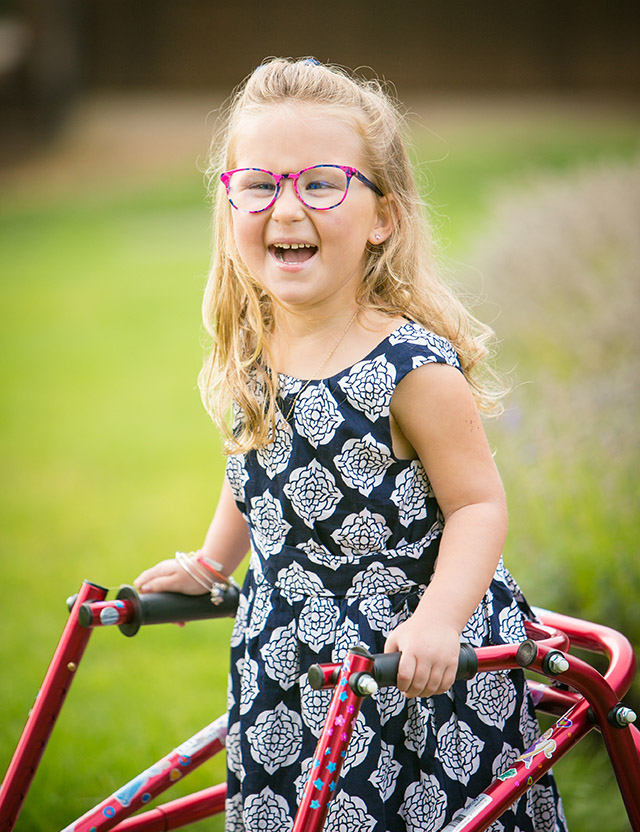 Vivian Weaver
Diagnosed
February 1, 2018
Story
Our daughter, Vivian Rose Weaver, is a smart, articulate, funny, sweet, thoughtful, imaginative, precocious, 3.5 year old who lives in Husum, Washington. She is full of love for life and people. She loves princesses and superheroes. She loves art, she loves her friends, she loves her large extended family and she really loves ballet. She is excited for her first recital in June. Like most children at this age life is full of discovery and she's full of joy and happiness.

On the evening of Monday January 29, 2018 Vivian was riding her electric 4-wheeler and complained of a headache. Her Dad, an ER Physician, sat Vivian on the lawn and briefly examined her. She had previously been diagnosed with strabismus, the most common eye deviation problem in children, and we hadn't been too worried about it. But when her father noticed a subtle facial nerve palsy he was immediately concerned. The likelihood of two cranial nerve palsies without significant pathology was unlikely. An MRI performed 2 days later confirmed our worst fear.

February 1, 2018 Vivian was diagnosed with a large brainstem tumor. Due to the obstructive effects resulting from the tumor significant pressure within the brain had developed. She was immediately transferred to Oregon Health and Sciences University where a VP Shunt was placed later in the day. This drain allowed pressure in the brain to normalize and the facial weakness and eye deviation gradually improved. That day we heard the term DIPG for the first time. As we discussed Vivian's case with the pediatric neuro-oncologist the significance of the diagnosis became clear: No surgical options. No known effective chemotherapy options. A uniformly fatal disease. Average life expectancy from time of diagnosis, 10-12 months. It's difficult to describe the crushing nature of this news.