Joshua Thompson Director of Marketing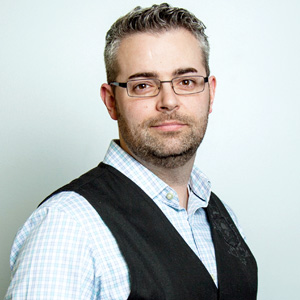 Joshua Thompson, Director of Marketing
1. What brought you to CSN?
I've been working with CSN for almost as long as they've been around. They have been my favorite company to work for and have provided me with some of my best opportunities to be creative. After nearly 20 years in the marketing and advertising industry I felt it was time to take my skills and do something rewarding with them. And what could be more rewarding than helping find a cure for pediatric brain cancer?
2. What I do at CSN
I eat a lot of baked goods. But in addition to that, I'm steering the ship on branding and marketing – creating a unified look and voice to help amplify our message.
3. What I like most about my job
Using my powers for good.
4. What moment have you cherished most at CSN?
It was in my early days of working with the Cure. The company I owned received the Hero of the Year award. I've won various advertising awards for my work over the years, but the Hero of the Year award was the only one that really meant something to me – it represented an honest appreciation for the work we were doing.
5. Many people would be surprised if they knew I…
studied tap when I was a kid. In my dreams I still dance like Gene Kelly.