Alli Felts Event Coordinator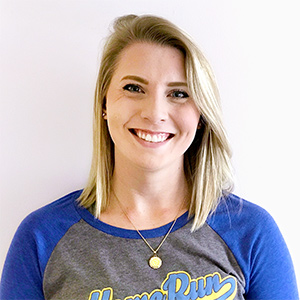 Alli Felts, Event Coordinator
1. What brought you to CSN?
I was introduced to CSN when I attended the 2018 Gala in Cincinnati for the first time. I was amazed as I walked through the doors and said "this is what I need to do with my life". Though I don't have a direct connection to cancer in my family, I am truly amazed by everyone that is involved with this foundation and their dedication and passion for finding the Homerun Cure.
2. What I do at CSN
Event Coordinator is my "title". I help to plan and execute events for our chapters so that everything goes as smoothly as possible. Putting on an event can be overwhelming with all of the logistics, planning and budgeting which is where I can help and put my skills to good use! Having this role allows me to travel and meet all of these sweet kiddos and their awesome families as well.
3. What I like most about my job
I don't necessarily consider this a "job" because it's something that I love doing. I no longer sit on my couch on Sunday night and sulk because the weekend is over – I feel excited and recharged. I truly enjoy coming into the office being immersed into the glowing atmosphere that CSN seems to carry with them wherever they are.
4. What moment have you cherished most at CSN?
While I haven't been here long, I have already met many families who have been affected by DIPG. Each family is special and powerful in their own ways and listening to their stories is an honor in and of itself. I love when kiddos come into the office to visit! I cherish any moments that I have with the families and the people surrounding them who are working so hard to find a cure.
5. Many people would be surprised if they knew I…
I sleep walk & talk all the time. I also know a lot of sign language!